Do you remember my crazy radical junkin' day next door?
If you do, you'll recall me sitting on this sawhorse while the festivities transpired.
Well now… that was too good of a trinket to miss out on! So I hauled it inside and put it to work! Funky Junk style. 🙂
Check it out. It even snowed inside on this fine day. 😉
Could I have painted it white? Yep! However I always try stuff in their original state first. Always. You can't go back if you paint.
It chimes in super well with the blog office area right behind it. I guess I collect saw horses now, eh?
I didn't do a thing to it. I even forgot to wash it. 🙂 When creativity hits, dust flies around here!
A simple table runner idea is to simply cut a strip of linen fabric for a pretend fringe. Double it up and cut your desired design. Works for me.
Little felt things are on the feet so we can scooch it around the room where desired.
It's just a simple little fun idea created in 3 seconds that works! I may jazz it up after the holidays moreso if I keep it here, however for now, I really enjoy the rustic feel it offers.
I mean, it matches the junk tree after all. 🙂
I can't wait to show you how this looks now. 🙂 Coming soon! I can't keep up with the likes of me.
Do you use anything unusual for a sidetable?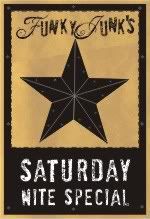 pssst… bring your fav Christmas recipe on over this weekend!