Welcome to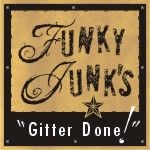 "Gitter Done!" – volume 2!
I gave you permission HERE to walk away from the computer to get some overdue DIY or non DIY tasks done and over with so you could blog allll about it.
Today's the day to reveal all your hard work! I can't wait to see what you've got. 🙂
This round I chose to work on a loooooong overdue project.  Let me just say, I'm grateful for the long expanse of time we had on this one!

You've seen this apparatus everywhere. It's just pine wall type storage meant for the garage. I recently acquired this from my mom's place. I started priming it fully assembled the day after it got here, but then it sat in front of my house for… oh… around 2+ months. I'm surprised the neighbors didn't call the city on me.

 I kid you not about the city thing.  It even gathered friends over time. The watermark on the pic says it all. This was one reason I started the Gitter Done event. I needed to get this done!
Then I bought a new computer and the whole world changed. It was time to get on with the new plan!

 When I realized painting it fully assembled was a dumb idea if I ever wanted to move the shelves around…
I took it all apart and pretty much started over. Not fun. Very tedious in fact. I painted the top AND bottom of EVERY. SINGLE. PIECE.
I first sanded and primed all the wood with Kiltz latex bonding primer, then went over it with 2 coats of semi gloss exterior. I honestly never thought this part was going to end.  But I did it in 2 days. WITH it raining. I know. I'm amazing.
Paint Tip: stack'em up
If you have a hundred thousand posts such as these, stack them side to side with edges up, and paint the edges all at the same time. Then lay them down and paint the flat sides. When dry, do the other remaining sides the same way. Just saves alot of edge work time.
Next, I glazed all the pieces, with a barely there tone as I desired the shelves to still look white, but to also show abit of character.  Brush on, wipe off with an ever so slightly damp cloth.
Install Tip: use a drill
Next came the big build. Using your cordless drill with the right tip is the ONLY way to do this! I staggered the shelves on the bottom to accommodate a file shelf etc. And instead of the normal metal back supports the shelves came with, I used sanded old palette wood for some added character. Can you get a feel for what's going on yet?
 I then used the window frames to mount the unit against the wall. With only 2 screws, this unit is not going anywhere, plus it's very easy to simply unscrew, pull away from the wall and adjust shelf height if I desire. Predrilling your holes makes this job painless.
Next I worked on the old farm table I had. I'll show you my trials and tribulations in an upcoming post soon. Oy… glad it's over!
Updated links:
The wall unit staging reveal is HERE.
Final reveal with the NEWER pallet desk is HERE.
 Here's a post on how to build this kind of unit from the ground up. 
EASY!
Next Gitter Done Event is
~ Wed August 4th ~


Rules for the Gitter Done Challenge:
1.This is an exclusive linkup event. Please link up only if your project was inspired by GD.  
Please bring your general linkups to SNS (on every weekend) as we'd love to have you join in then!
2. In your post, please tell us how GD inspired you.  
This will help me determine which are GD linkups vs general DIY linkups not suitable for this event.  (which will be deleted.. sorry!)
3. Your linkup does not have to be DIY related, just something you've been stalling on. You'll thank me later. 🙂
4. Please include a before and after pic, so we can appreciate all you did!
5. Please link back to the event by text or button. (see BUTTONS section in header area if you desire)
6. Please keep the 'jest of your project' new to the net until your GD reveal. (teasers or shoot off posts are fine!) This will give us all a reason to wish to tune in to see what's brand new!
Linkups that follow all of the above guidelines will have the chance to be featured, so watch the sidebar during the event! The link feature will be active for one week, so keep linking and checking in. 🙂
Your thoughts.. did the time gap between the two events seem about right or abit too long?
I can't wait to see your stuff!