Welcome to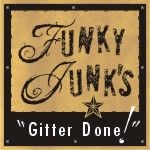 "Gitter Done!" – volume 5
I gave you permission HERE to walk away from the computer to get some overdue DIY or non DIY tasks done and over with so you could blog allll about it.
Misery loves company. 🙂 "Gitter Done!" and join in!

This folded up vinyl is the sign of a beautiful thing.

For taking down the backyard smurf pool was loooong overdue. (our summers are only 2 months long.. if lucky)
 And I gotta tell ya, this is not my favorite job.
I scrub everything down. And then it has to be held down because it was a windy day. But the BIG deal is, it has to dry before it gets folded. And since it rains every other day here… well…
 It's a sad day indeed when your befores are BETTER than your afters. 🙂
 Good grief this was HEAVY.
 It's done! And gone for another 10 months. Yipeee!
(tip for backyard pools that kill grass: put the trampoline in that spot when pool is gone)
Oh.. wait. I still have to take apart that ladder. Darned picture reminder.
And this part.. was still drying out. And then it started raining so I THREW it into an overstuffed garage because I was on my way to work. I promise! I'll 'find' it and fold it and gitter done 100%. Soon!

~ CHORE GITTER DONE? ~
I'm honestly leaning towards having Gitter Done completely non decorating so it better separates traditional link up parties. Just boring duty/job/chore type stuff. Gutting your closets, cleaning up a room or garage, dumping out your junk drawer, weeding horrid flower beds, cleaning out your vehicle… you get the idea. I mean, by all means, stage your finished project if you wish, but you can only stage a vehicle interior so much. 🙂
What do you think?
Please watch the comments and the poll below.  The next Gitter Done may be decorator free. I'll decide by majority vote.


<br /> <a href="http://polldaddy.com/poll/3878398/">How would you like to see "Gitter Done!" continue?</a><span style="font-size:9px;"><a href="http://polldaddy.com/features-surveys/">Market Research</a></span><br />
So, what did you finally get to this round?  Let's see whatcha got in the linkup below!
Next Gitter Done
1st Wed of every Month
~ Wed Nov 3 ~


Rules for the Gitter Done Challenge:
1. This is an exclusive linkup event. (not to be confused with a regular link event) Please link up only if your project was inspired by GD. 
  
2. In your post, please tell us how GD inspired you. 
   
3. Your linkup does not have to be DIY related, just something you've been stalling on.
4. Please include a before and after pic, so we can appreciate all you did!
5. Please link back to the event by text or button. (see BUTTONS section in header area if you desire)
6. Please keep the 'jest of your project' new to the net until your GD reveal. (teasers or shoot off posts are fine!) This will give us all a reason to wish to tune in to see what's brand new!
7. Linkup will be active for 1 week so check back often!
If your link was removed, please reread the rules and try again. Sorry, no blog home page links (must be linked to your intended post)  nor general linkups for this one.
Would you mind taking a moment to vote?
My plea post is HERE.
And yes… even if it's not for me. 🙂 Thank-you! 
Let's give One Project Closer some great hits due to their wonderful cause.


Vote HERE