Welcome to Saturday Nite Special #92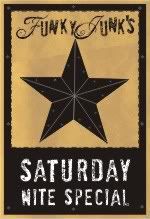 If you're new here, join in! There are three categories to link to. Home Decor as well as Crafts, Sewing, Recipes, plus the 3rd themed link up which stays open indefinitely. Check below for this weekend's theme.

Party starts Fri night and ends Sunday 11pm pacific, so you have all weekend to join!
I'll be featuring SNS highlights during the weekend on FJI Facebook, so join in and see what they're all saying about your stuff. 🙂
This weekend's theme:
~ What can I do with ? ~
Care to help me brainstorm?
I'm rarely at a loss for ideas when it comes to wanting to repurpose something. You've seen a few of these items in my photoshoots before but I really want to make killer projects out of them once and for all.
So, let's brainstorm shall we?
#1 – I thought maybe a handle for a toolbox…
#2 – I LOVE these fabulous US plates from friend Lori Ryan. I thought maybe birdhouse roofs…
#3 – Robe hanger on the back of a door?
#4 – Rusty crusty awesome cow feeders… I've used one as a birdbath. But what about the rest?
#5 – I LOVE my rusty cultivator blades x 2 from friend Iris at Treasuring the Journey. I've used one for a Christmas tree star and then just for display but I want a killer project. Perhaps a clock? Lamp base or candle holder maybe…
#6 – I love store storage racks. I used this for CD's before but I was only eh about it. What would you do with it?
Let's see how creative YOU are. 🙂 What would you make out of these items?
Have an itemyou have no clue what to do with?
Show us your photo on FJI Facebook so we can help brainstorm with you. 🙂


up next:
~ chalkboards ~


Got a unique board or creative way to use chalkboard material? Bring it along next weekend!


*the order of this list is subject to change: please check weekly for the new theme.
Be sure to check the themed linkups master list to add your newest creations anytime. 
They're always open.
List HERE.
~ SNS blah blah linkup rules ~
 1. DIY home projects only please.  Items for sale may be linked up if you show your project in tutorial form on your blog. Linkups or comments for selling items, advertising your giveaway or promoting your own link party etc. may be removed.
2. Please cut and paste the address of your post, not your home page.

3. Please link back to the party (button or text) within your post. See BUTTONS under main blog header.
4. For Home Decor and Crafts, Sewing, Cooking, please link projects up that are new to SNS and/or within 1 month old. Repeat linkups will be removed.

The themed link up may have older posts and not brand new to SNS and will remain open for your new additions at any time. Click HERE for the main list.
If you can't decide which category to enter yours in, please just pick ONE and go with it. It's all good!
 5. By linking up to SNS, you're cool with being highlighted on FJI Facebook, added to the themed linkups and for possible future features on FJI without additional permission required.
 Come on over and see if we're talking about you this weekend. 🙂
Share your "What can I do with ? items on FJI Facebook this weekend and join the fun!
Link HERE.