Welcome to Saturday Nite Special #67, the 'centerpiece' edition!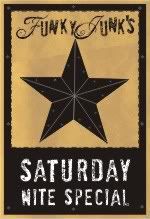 If you're new here, join in! There are three categories to link to. Home Decor as well as Crafts, Sewing, Recipes, plus the 3rd themed link up which stays open indefinitely. Check below for this weekend's theme.

Party starts Fri night and ends Sunday 11pm pacific, so you have all weekend to join!
I LOVE to highlight inspiring posts during the event on the sidebar, so make sure you check in several times over the weekend. You may be next. 🙂
this weekend's theme
~ centerpieces ~
I don't have a kitchen table, so it was abit of a challenge for me to sell you on the topic of centerpieces. 🙂
So, I set up shop in office #1. My farm table is finally in place and I was able to play with all my stuff nearby! Yay!
It's my belief ANYTHING can work in a centerpiece. I especially like those that have trays, dishes, handles, or any kind of platform underneath so they're easily removed when you need the entire table.
I wouldn't hesitate to display my favorite treasures on my own table. 🙂
Have a pretty table you don't wish to hide?
How about defining your area with an empty picture frame?
Nothing shouts spring like snowdrops and clay pots! Simple, pretty, and super easy to remove at a moment's notice.
Since I don't have that kitchen table, this is where mine sits.
Here are a few others I've done not long ago…
A simple tool tote makes an awesome centerpiece.
And my coke crate sat on my kitchen island during Christmas. Cute AND handy!
And then there's my tray which can go virtually anywhere with anything on it.

So there's my off the wall take on centerpieces. Can't wait to see your variations in this weekend's 3rd themed linkup!
What's your fav thing to use in centerpieces?
~ next up ~

chandeliers
then…
bulletin boards
slip covers
Be sure to check the themed linkups master list to add your newest creations anytime. They're always open. List HERE.
~ SNS blah blah linkup rules ~
1. Please link up your intended post, NOT your blog homepage url. (post, then click the title of your post, then cut and paste that url) If your post has been deleted, please try again.

 2. Please put a link in your post (button or text) that leads back to the party so others can see what's up. (see BUTTONS label under main blog header)
 3. This party is geared for DIY type projects we can all attempt to make ourselves. Items for sale may be linked up IF your entry is posted on your blog and in tutorial style.
4. For Home Decor and Crafts, Sewing, Cooking, please link projects up that are new to SNS and/or within 1 month old.  This helps keep content fresh.
The 3rd weekly themed link may have older posts and not brand new to SNS and will remain open for your new additions at any time. Click HERE for the main list.
If you can't decide which category to enter yours in, please just pick ONE and go with it. It's all good!