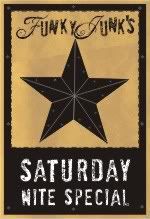 Welcome to Saturday Nite Special #100, the multi themed link party!
* Home Decor
* Crafts, / Sewing / Recipes
* Theme of the week
Every Fri 7pm to Sunday 11 pm Pacific.
~ pallets & reclaimed lumber ~
Would you believe I'm not really in love with the look of a pallet? So I generally modify it or just use the dismantled wood to make what I desire. But not always.
Be very afraid. This is my category to a splintered up T.
pallet front step, walk way and white firetruck crate

If you're a reclaimed board collector like me, you'll also want to read:
All You Ever Wanted To Know About Pallet Wood
Because pallet wood and reclaimed lumber isn't always safe to use.






You can also peek at my own pallet collection Pinterest, above.




Link up your pallet projects in this weekend's 3rd themed linkup!
~ next weekend's theme: ~
non traditional window treatments


Have some unique window treatments? Bring'em on!


and click here for the last voting poll results
Click HERE for the master themed linkups list. Add yours anytime!
~ SNS blah blah linkup rules ~
1. DIY home projects only pretty please. Items for sale must be in tutorial form on your blog.
2. Please link back to the party (text or button) within your post. See BUTTONS under main blog header.
3. Only projects new to SNS please. The themed linkup is an exception.
4. By linking up here, you're cool with me featuring you with no additional permission required. Cuz I wanna make you a star. 🙂
Party highlights will be shared on FJI Facebook this weekend so come on over and see if we're talkin' about you. 🙂