Welcome back to Saturday Nite Special linky party #2! This weekend's theme is all about vignettes! I cannot wait to see what everyone has in store!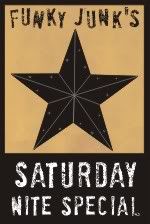 No vignettes to share? I'd bet you do too! I use to call them displays before blogland. Most anything constitutes a vignette. We all have stuff sitting on tables, windowsills, mantels etc. So fluff, arrange, click and come out and play!
TIP: take a pic of your vignette and view it in your camera first. It's weird but if it doesn't picture well, rearrange and try again. This really works! The eye of the camera is different than your own eye taking it all in.
The party ends Sunday midnight and the prize to the chosen winner is a feature of your project and blog!
 *Revised: you no longer MUST be a follower to win.* (more on what Sat Nite Special is all about HERE)
And here's a vignette post that can help you on your way! So grab a button if you wish, link up your post and come on down! If you have no vignettes to share and you wish to link up a non related project, feel free! But this round I will be voting on the vignette entries to celebrate our topic.
Here are a few from my own home. Right click/open new window on the bold text to visit these posts.
See how simple this mantel is? Because of the massive size of the objects, it does work. Nowhere is it written you have to jam your ledges FULL.
Build up those items like building blocks, creating interesting layered visuals.
Take one last look at that glass washboard. It's now a wooden glassless frame. Sigh….
Yes, I totally consider this a vignette! And the tap is even part of it. Consider what's standing in front of your arrangements and make them a part of the picture.
Vignettes should marry what they're on top of. Rustic underneath = rustic on top.
Must play well with others ~ This display is open for the entire upstairs to see. So I placed things that go with the entire upstairs rather than office depot plastic weirdness.
Laundry room fun! Where else to try an old sewing machine?
Create a story ~ This is a mantel I did for my mom just for fun. I didn't spend a wadful of time on it but felt it was on topic too well to pass up! This mantel is chalk full from memories past. (No I didn't think to take a before pic!!! But the mantel was full of cups, cards, and vases. She was due for a fresh new look.)
 The iron and white crock belonged to my grandma. The old wooden thing is my dad's milking stool.
Here is the entire mantel area. My mom is such a good sport. 🙂 All the things she had on hand. And each item contain great meaning to her.
I totally got a kick out of the red paint on the window pane! Window is from my parent's barn. Rogers can is from the farm kitchen.
The china cow I scooped up from the fancy china cabinet area and is a precious gift to my mom from my dad. (miss you dad!!) The pussy willows I believe are still from the farm. The green plant is REAL. If I had a plant like that, it would be rust coloured…
The cow pic was taken by my niece. Funny! And the chain on the window? I yanked the window off her garage wall and left the mounting chain in tact. She was missing some metal in her house anyway. 😉
This little stove is old as well and a gift from the family.
I found the milk can in her garage and is a precious item from her brother's farm.
Enough about me! Let's see whatcha got! Link up,  have fun and good luck!
To link up:
1. Make your post, then once made, click on the TITLE of your post for the correct address. Links simply brought back to your generic blog address will be deleted so if you link is gone, please try again! How-to HERE.
2. Please link back to this party within your post by either the linky button or text so others can join in too!
Weeeee! Fun!