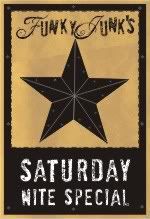 Welcome to the 5th edition of Saturday Nite Special!

The theme this weekend is anything goes! Feel free to post a previous or current project you are proud of so we can clap along with you! I'll be doing a highlight post after the party selecting some of my favs, so watch for that one too as you may be in it. 🙂
Party runs until Sunday 11pm so you have all weekend to join in! Yippee! Let's party!
~ ~ ~ ~ ~ ~ ~ ~
I promised to keep you in the loop in re: to me preparing for the Christimas show, so here's something I've been working on. I needed a brochure and biz card, so I put on my thinking cap and came up with something unique for the card.
 Always on the verge of creating something not done before,  I decided just a plain 'ol card was.. well, plain. I wanted 3D eclectic something or other, that more resembled my style of decorating. So, I created 'the eclectic handmade label card.' (scrapbookers will probably groan.. I don't scrapbook and never have but maybe I should!)
I love the quaint look of labels. Isn't the round one the cutest? The card consists of 2 real labels and the last being a printout on stock. The round one has my phone and email, the 2nd the blog address …
… and the 3rd, the main logo. I stuck on a white hole reinforcer for strength and for the pop of brightness to tie in with the other whites. This is a prototype so it's roughly cut as you can see.
On the back of the main card, I created another funky label with my full name and mailing address.
I'm one to like clean cards and all too many times I see them bombarded with soooo much info. These tags were simply a fun way to get all the info in but in a unique fashion.
When I get to the point of handing out a bazillion of these things (like tomorrow even… yeah), I'll do something more time efficient no doubt!
For the brochure, I like working in CorelDraw. It's a vector based drawing program I use for my vehicle graphics. (I have another life, maybe I ought to tell you about that some time if you're interested…)
Here's a closer screenshot of part of the brochure. Look! My dresser made it into print! 🙂
As cute as the colour brochure turned out, when I printed it out from the black laser printer, it turned out alright. I'll probably just go with this version for the show as the other attendies are in a black and white brochure as well. I'm going to display the brochures in the clipboard as you see here and create a stand of sorts (out of rusty pencil rod steel… thanks Dan!) They'll be handed out to the other participants in the show to get the word out.
I'm so glad that's over!  I want to go play with paint and tools again. 🙂
(in case you were curious, Funky JunQUE is the client blog I've been feeding for an online portfolio. I can't imagine they'd want to know about our link parties and such..) Check it out and let me know what you think if you wish!
So here we go! Rules are simple and same 'ol:
1. Please link up to your post, not your home page address. How-to HERE.
2. Please link back to this party from your post others can join in the fun!
Party runs till Sunday 11pm. Happy weekend inspiration to all!