I remember this day vividly.
I had just signed up to be a part of  a town wide Christmas tour featuring all the local artisans. Being a rusty metal junkin' wood fanatic type, I really wanted to try my hand at something white for the showing, to prove I could decorate girly too. 🙂 If blogland was doing white, so was I!
So on a whim, one week before the entire town arrived, I tore my unfinished funky sign bedroom apart. *sob*
It's ok! I could do this! First, I needed a new headboard. And naturally with absolutely NO budget for such an endeavor, this became all about making do with what I had on hand. 
An old door from a burn pile, a gate found at the dump, and a chunk of metal clad siding from a farmer's scrap pile became the main players for this new creation.
I see that doubt in your eye. 🙂  Laying the components down on the backyard lawn where space is never an issue, I started building the pieces up like a puzzle gone just abit mad. Would it work?!? By golly, I was going to MAKE it work. 🙂
Next I created a backdrop. Different sized scrap boards spaced randomly became my own spin of a board and batten feature wall, perfect for what was to come.
Once I mounted the gate and door to the wall, I created a pattern for the shape of the metal.
Two grinders with different blades were used:  one to cut, and the other to grind the edges smooth.
The metal siding was painted out in white, then mottled with glaze creating an aged appearance. Note the colour is deeper on the bottom than it is on the top? That's the way the light hits an object so it's fun to fool with Mother Nature when painting. 🙂 A scrap piece of molding finished it off.
And then the bed making began. Although I really liked the quilt, I was left with a feeling of … "Eh… it was ok." 
It was when I threw a bunch of stuff on the bed that something unique clicked. And just like that, I knew what I was going to do. I'd never seen a bed quite like it, so why not be the first?
An empty battenburg lace duvet cover became a coverlet of sorts. Leaving it crumply on purpose just enhanced the lacy details. And turned a simple bed into a white wonder!
And the craziness continued. I grabbed a lacy sheet and draped it across the fold of the quilt to create some extra poof.
Pillows! I needed more pillows.I shopped from the rest of the house and placed everything in it's new eclectic home. The burlap looking things are $1.50 sand bag covers fresh from the local hardware store. 🙂
An old weathered table top found at a garage sale became a rustic bed tray, perfect for a snack or a game of cards. And the sleepy little kitty makes the perfect companion, ready for a snuggle. 🙂
And then it was done.
Welcome to my little white oasis, which I cleverly titled, the White Trash Bed. 🙂
The rumply crumply look of the bed has the style of one cozy retreat! No pillow is tossed just so, no crease is smoothed. It is the easiest bed in history to make. Especially when you don't make it. 🙂
The added height from the gate as well as the white feature wall created headboard impact with much more substance.
This bed wears many shades of white, convincing me that's exactly why I love it. It's the warmest white I've ever been around. 
And good news! The bed was an absolute hit with the Christmas crowd ladies!
And continues to be with the cat.  🙂
I hope you enjoyed the tour.
Please visit all the other talented gals in the competition and cast your vote for your fav two!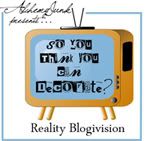 Other related tutorials:
How to make a crumply rumply bed
Aaaaand, the results of the contest just came in.
Thank-you all for your votes of kudos!! 2nd place this baby makes!  🙂