Build a TV stand from a pallet!
Visit home tour with above photo HERE
I've always wanted to make a coffee table out of an old wood pallet.
However when our big screen TV died and I brought in our little flat screen from the travel trailer, I knew we needed a new stand for it.
I had this wood pallet sitting in my garage I found only a few short weeks ago just begging for the right treatment. And it was the perfect size for what was needed. So thanks to So You Think – Junk Edition, the build began!
This post contains some Amazon affiliate links in which I earn a small percentage from qualifying purchases through these links, at no extra cost to you. Thank-you for helping to support my blog!
TV stand made from a pallet!
.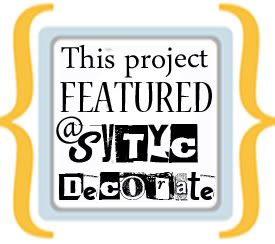 See all my contest entries HERE – So You Think You Can Decorate
~ The Build ~
First, I had to create a place for the components to sit on. I used all old pallet wood I had sitting around and filled in the pallet gaps, enclosing the 'box'.
I also predrilled most holes so the wood wouldn't split. I'm good at splitting wood. Like in the top right pic. 🙂
The wood was pretty rough, so sanding it like crazy with a palm sander was an absolute must!
Sanding tips:
.
Start with a coarse sandpaper, then work up towards a finer grit.
Finally, end with hand sanding with a very high grit, such as 300-600.
I also upgraded to THIS Bosch variable speed orbital sander which I LOVE much better than the one shown!
And then absolute panic set in.
I had no idea how to build LEGS. Grabbing every single piece of scrap wood I had, the brainstorming began. I worried. And propped. Then failed. And then snapped this mayhem kind of picture to try and forget my crazed mind frame.
Dear real woodworkers: this is the time to stop reading. Skip WAAAY down to the reveal. Thank-you.
And then when I found two chunks of wood nailed together (top left pic), the light bulb came on! I cut legs, attaching them to a board on their own, THEN screwed the leg/board combo onto the bottom of the pallet.
Like so. Well I'll be… it worked! I'm now a builder. Right?!
And then I funked up the side and back supports with three different treatments on the legs. Funkalicious!
We aren't done yet! There's something special about this particular pallet. The top is actually sunken in, allowing for…
~ The Reveal ~
Antiques glass showcase
.
… a display case out of the top! I already had a piece of glass in my storage stash that fit PERFECTLY. What are the chances?!
The weight of the TV is supported by pieces of 2×4's placed underneath the glass. Sneaky, eh?
This would be an easy addition to add to any pallet. Simply build a frame around the top, then cut a piece of glass to fit. Just make sure the tv is supported in some way underneath.
The leg height was designed so the authentic crates underneath could be used for movie storage bins.
How fun is that display case anyway?!? To be able to theme it on a whim makes me giddy. 🙂
The finished TV stand from a pallet
.
(visit window gate screen tutorial HERE)
And there she is! The old pallet TV stand.
>
I decided to leave the wood in its natural state. Love the different hues and textures as is. Very crate-ish.
And the two openings under the top? They were the perfect size for the TV and DVD components. Amazing.
Right side.
Left side.
My $0.00 cost unique little TV stand from a pallet is right cozy in it's new home. 🙂
And now to get a slightly bigger TV…
Update: Which I ultimately did! And the TV stand made from a pallet still works as good as the day I made it!
Fun, right?! What's your own TV on?
See my other up-cycled TV stands HERE
Create the look of pallet wood for your projects with THIS STENCIL!
Visit many other pallet projects HERE
See all my contest entries HERE – So You Think You Can Decorate