A new imposter resides in my house, thanks to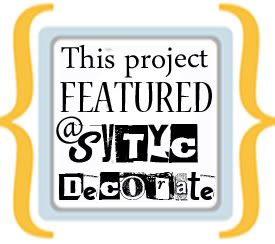 Something I've collected for awhile are antique board games.
So when this week's assignment for SYTYCD was to be catalogue inspired, I knew right then that Pottery Barn's bingo sign would fit in well with my existing decorating theme. But to create wall decor? Something else? I didn't quite know yet. So here's what I did.
The build
and
The reveal
The build
1. Creating the topper
Having NO idea what I was yet doing, I dug in the depths of my wood scraps for the inspiration I needed. If I had it, I could make it, right? … sure… 🙂
Leftover pine tongue and groove boards from a previous ceiling project – check! The boards were cut down to the desired size, then were lightly distressed with a pick object, hammer and nails, creating worm holes and dents.
My first mounting idea was the top right, when I realized a more outside of the box idea would be even cooler. Switching gears, plan B came into effect!
2. Creating the base
I knew for my new idea I needed a firm base to hold the pine boards intact. And that happened to be an old cabinet door I simply cut down to the right size with a compound miter saw, finishing the cut with a hacksaw, because I don't know how to use my tablesaw and I always cut crooked with my jigsaw. Need I say more?!?
3. Finishing and attaching the topper
A few coats of leftover stain (custom tinted to match my hardwood flooring) were applied to the boards, bringing up all the distressing perfectly. Finishing coat yet to come – satin poly or wood oil, still undecided.
To mount the boards, I had to get creative. I don't know how to use my nail gun yet, (It's on the list.) so when I came across a container of rusty old nails, BAM! Or should I say, BAMBAMBAMBAM. This really added an authentic touch to the piece! No thank-you nail gun. Not today. Proving, some glitches are just better. 🙂
4. Creating the stencil
After you stop smiling at my yellowed heirloom white dinosaur computer monitor, let's move on to the stencil I needed to create. 🙂
Grabbing inspiration from the PB version, I changed out a few things to make in more my idea, including some hidden numbers with meaning. A stencil is born! Removing the vinyl pieces that I desired to be black left me with a great stencil to work with.
Update: We now have this design in a mylar stencil you can purchase!
Click HERE to the stencil store
And the stenciling began. Using black fast drying acrylic craft paint, I used a stipple jabbing motion to stencil on the letters so they wouldn't be perfectly filled in.
5. The finished product
LOVE! The edges lifted up razor sharp. Once the paint was dry, all the black areas recieved a light distressing.
And this would have been the finished product if I had stopped at a simple wall hanging. Sooo… let's push it one step further. The base was beefed up for a reason. 🙂
The reveal
Some old antique looking wrought iron handles were snagged off an exsisting tray I had in my pile of junk stockroom, and attached to the sides of the board to help create the new identity I had in mind. This is also where the nail heads really got a standing ovation. It was all coming together nicely!
The bingo board became a sturdy productive tray, as well as a custom table top for an old coffee crate with a surface that had seen better days.
The chosen stain and black paint for the tones proved to be the perfect combination for the stamped and woodsy box underneath. Note those great galvanized rusty edge details on that crate. Bliss! 🙂 Plunk a little clay potted PB inspired wonder on top, and let's call it done!
As you can see, the new tray looks right at home in it's rustic eclectic environment. It proved to be the perfect little finishing touch to an already rather 'interesting' side table. Like a new pair of shoes even. 🙂 Yes, I think my new little impostor is here to stay!
Think my antique game boards can live peacefully with an impostor? Ehhh… an extra brawl shouldn't hurt much. Nothing wrong with a bit more distressing now is there? 🙂
Thanks for your visit! Now, make sure you go cast your vote for your fav entry. 🙂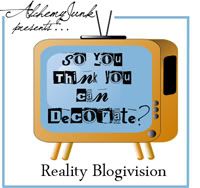 Previous –
Week 1 – Accessories
3rd place / 10
Bingo Board
Week 2 – PB Knockoff
2nd place / 9
Thank-you so much for your votes! I'm truly honored!!!!