This series is currently in session. Click HERE to visit!
And onto why you're here today….
Non traditional window treatments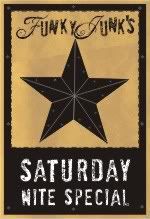 Welcome to Saturday Nite Special #101, the multi themed link party! 
* Home Decor
 * Crafts, / Sewing / Recipes
* Theme of the week
Every Fri 7pm  to Sunday 11 pm Pacific.
~ non traditional window treatments ~


light and airy… so delicate!
Country Living


love how the sunlight streams through




The Little Apartment


unique window AND wall treatment with a ton of character






See Inspiration


paper! clever.



These old gate screens were one of my first builds.




mine


a drop cloth plus vintage hanger = 1 min no sew curtains

mine
see through junk. perfect. 🙂
And then Nester went and wrote an entire blog on this very topic!
Go see what's in the current spot right now. 🙂
What non traditional window treatments are your windows wearing?
Link'er up in this weekend's 3rd themed linkup!

Want more windows? Check it out!
Next up:
Summer's End Yard Party 2011
Remember when I challenged you to pretty up those yards and do something creative? Let's see whatcha got next weekend so we can say hello to fall!
upcoming themes – may not be in this order
Click HERE for the master themed linkups list. Add yours anytime!
~ SNS blah blah linkup rules ~
 1. DIY home projects only pretty please. Items for sale must be in tutorial form on your blog.
2. Please link back to the party (text or button) within your post. See BUTTONS under main blog header.
3. Only projects new to SNS please. The themed linkup is an exception.
4. By linking up here, you're cool with me featuring you with no additional permission required. Cuz I wanna make you a star. 🙂
Join us on Facebook this weekend for party highlights!