I did it. I can't believe I did it.
I wasn't going to get into Christmas this year. My wah wah post spelled it all out. I missed my mom and I just wanted to pout my way through the season.
But then all the blogland party deadlines approached. And I did what any blogaholic with passion does. I rose to the challenge and I met the deadlines.
This post is WAY long. About 7 posts worth. However I was faced with a reveal deadline today so it is what it is. 🙂
To accompany your viewing pleasure, here's a song I've always loved. However, THIS year, each and every word is 100% applicable to how I've felt in the past little while. Thanks Faith Hill. You hit the nail on the head this year for me.
(if YouTube doesn't work, right click / new tab HERE)
Welcome friends!
To my junk / memory style Christmas. 🙂

My dad's jean jacket.
A real tree, glistening with all of my favorite things alongside some special family mementos, set the theme this season.
The tree stand was placed in an old tub to resemble a root ball attached.
Full tree reveal and story can be found HERE
~ The fireplace ~
How to make an old gate from scratch tutorial HERE.
A fireplace, garnished with antique jars and a handmade old weathered gate, help carry on the theme of all things vintage and rustic.
Jars of all kinds are illuminated with mini lights behind them.
The glass angel hair offers an amazing snowy glow.
The wreath is loaded with special memories.
My dad's tie clip.
A lovely vintage pic of my mom.
Forever a farmer's daughter. 🙂
Grainsack, sandbag and pillowcase = no sew stockings bagings. 🙂
~ Sawhorse side table ~

When opportunity knocks to bring in a new furniture piece, never overlook something someone else is throwing out. 🙂
Full sidetable reveal and story can be found HERE.
~ picnic coffee table ~
I couldn't resist using this new found relic (my big junkin' day HERE) for a seasonal coffee table! The colour and size was perfect.

Real greens in clay pots along with 'new fallen snow' provide the 'walking through a snowdrift for a Christmas tree' feel.
~ The card ladder ~

Special pieces from my mom's jewelry box sparkle up this little rustic card display.

The mini Whoville tree combined with the mandatory pet photo. 🙂
Even the old weathered wood collection posing as windowsill art wears festive colours.
Modern windows are vintaged up, creating unique frames for the twig style wreaths.

A touch of real greens and a sparkly wired ribbon ring in the festive season.

Window from my parent's farm.

A coke crate becomes a festive and helpful centerpiece to the kitchen island.
The white twig chandelier (reveal HERE)
gets prettied up with mini lights, icy delights…

… and a little surprise visitor once belonging to my mom.
~ Blog office ~
Freshly strung cranberries trim out the front of the display areas.
(original blog office reveal HERE)
Thanks for your visit my way!
Please don't forget to grab a peppermint sugar cookie on your way out. 🙂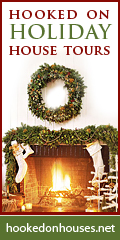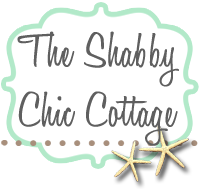 Everyone in blogland helped encourage me. Thank-you for saving my season.
Oh my gosh.. I'm done! Bring it on, Christmas! I'm in the mood now. 🙂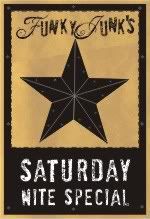 (see you this upcoming weekend for your full Christmas reveals!)