test
Garden junk ideas
Welcome to my dream garden! Did you bring your camera? Oh, no need! What you see will do all the talkin' needed. Come on in!
Here's a few garden junk ideas I'd love to have in my own yard!
Boots and shoes
.
Garden flower boots and shoes by On The Banks of Squaw Creek
Ah yes. The Garden of Lost Soles. If you wish to recreate this one, visit your local school's Lost and Found section for your supplies.
Old boots and shoes make fabulous planters… with loads of character! And no two are ever alike. Have you tried this yet?
House numbered wagon
.
House number garden planter wagon by Hoosier Homemade.
How about a little junk wagon? What a perfect garden planter… that also shares a house number too!
DIY stepping stones
.
Stepping stone art by C.R.A.F.T.
Wanna see how to make some new stepping stones?
Smooth your cement mix into an aluminum pie plate and the real fun takes over.
Blue beads aren't your thing? You can always add rusty nuts and bolts to junk it up!
Toad Houses
.
A toad house! Cute, huh?
Ew. The actual toads? Maybe not so much…
But apparently toad houses do work!
Make one yourself by turning a clay pot upside down with a cut opening! Or maybe you can come up with your own variation.
House numbered planter bricks
.
Cement brick house number planters by Coleen's Corner
What a clever way to share your house number in a garden! Makes a great garden art focal point but with plenty of flower planters.
Vintage crate riser
.
Vintage garden crate planter by Created 2B Creative
Need a little raised area by your front door or porch? Try turning an old crate on its side and add planters inside and on top!
Toolbox planter
.
Toolbox planter by Confessions of a Curbshopaholic. (this post is no longer online)
Have an old toolbox handy? Add a couple of brackets underneath, then hang it from a fence to create this unique toolbox flower planter!
Flower bed
.
Flower bed garden feature by Confessions of a Curbshopaholic. (this post is no longer online)
Equally cool in the same post is this flower bed. Literally.
The bed frame contains the flowers and soil, while the head and footboard can act as a flower trellis!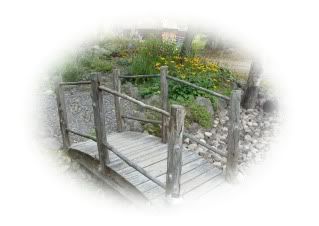 Build a bridge
.
DIY pond bridge by Follow Your Heart Woodworking
If you happen to have a meandering pond in your yard, here's how to build a lovely bridge over it!
That's some pretty great garden junk ideas!
Visit many other unique garden planter ideas HERE
testafter