This giveaway is now closed. Winner to be announced soon!
Thanks so much for all your comments!
I know why you visit here. Correct me if I'm wrong, but I believe it's to see what cool things can be created out of what some would consider… junk. 🙂
Now, if someone were to ask me what a few of my favorite junky things were, my answer bar none would have to be:
rust
metal
vintage
typography
woodsy stuff
rustic
distressed
So… with that in mind, let's take a little tour of what's up for grabs for ONE lucky winner in the
~ Junk Giveaway! ~
RUST
 You KNOW I love gears. And the rustier the better.
See those 3 pretty gears all together like? They're in! And they're authentic real deal stuff. With real rust and everything.Yum!! 🙂
(I can see Kolein getting itchy already: if she enters and then actually wins, I'll throw in a hand sanitizer)
Woodsy
 Feast your eyes on one of the most unique hangers I've ever laid eyes on.
 Look how rounded the top is! And doesn't that typography have you curious as to what or who that is?
I waltzed around my home with this hanger wondering what I would do with it. It looks cool above doorways, overtop a picture, grouped together with other vintage hangers, holding up necklaces… whatever! I've always been fond of these things and this one will be hard to let go… sigh.
Know what these are? They're burlap sandbags from the local hardware. Some people put sand in them to avoid floods. Silly silly people. 🙂
I make no sew pillow cases. Plunk your pillow in, tie up the top and it's done!
Stenciling something cute on them would really rock. I think you need to show me how.
You got it. A couple of (empty) sand bags will be thrown into this goodie bag no prob!
 I LOVE 4's. I just think they look cool.
And I happen to have this unique 11″ tall solid wood old house number that's waiting for the treatment of your choosing. 🙂
This is what I did with my 5, same size. They're BIG!
Vintage
 And how about some vintage Bingo cards in perfect condition? They have sort of an off white appearance and they look like NEW. 
I think they'd be pretty sweet framed up in a unique way.
Distressed
 These, my friends, are the ends of pickets! Let's call them picket coasters why don't we. I've never seen picket coasters before, so there you have it. A Funky Junk original.
Ohhh… but these are not just ANY random picket ends. Would you like to know what they are a part of?
They are related to my palette desk. You will OWN part of my junkin' palette desk. 🙂
Oh ho ho… and then we have….
 Funky Metal
 I'm going to go through my special metal bolt stash and find you a handful of the coolest pieces. Look at the heads. Aren't they so eclectic and weird? (like someone you may know…)
Now don't be rollin' your eyes here quite yet… this IS a junk giveaway after all. 🙂 This is what I did with mine…
I drilled holes into my palette desk and plunked them right in. Desk jewelry!
Can't wait to see what you come up with. 🙂
Purposeful Metal
How about this vintage grain scoop? 
It looks super adorable holding dried hydrangeas under a rustic ladder on your window sill. 🙂
And how about one more metal thing?
I've had you drooling over mine in the past. And I found an even BIGGER one to give away.
Cool Metal
 Yup! A big honkin'  meat grinder that you too, can house your pens and pencils with if you so desire! Dried hydrangeas would look sweet tumbling out of this. The cat background came off of google.. isn't it cool? (not true, they just love me is all)
 It's a No. 10. Whatever that means. Anyone know? Is that the size? Lemme check to see what mine reads…
Holey moley. Mine's only a 2… must be size. The pencils in the #10 are half buried which actually works better. My pencils tend to flip out. You got the better deal. 🙂
This #10 is a total heavyweight! But it's really really cool so I want to send it to some lucky duck that appreciates this kinda stuff.
Vintage Metal Typography 
with a touch of Rustic Rust
 Oh gosh… this one's makin' me jittery. I've had this tin FOREVER. Years. I've always loved it. What is says, what it looks like, and now that TEAL is in so big. I love this tin and I totally want to see this in your home if you win it because I'm also sending you official adoption papers on this one. 🙂
Yeah yeah I know… I bond with my junk. What can I say.
So.. desire to own a piece of Funky Junk history? Here's your chance!
How to enter the FJI Junk Draw
Tell me which is your fav item above, and you're entered!
Are you a follower or subscriber of Funky Junk? Comment to enter again!
Blog, Facebook or Tweet the giveaway and comment to enter again!
Giveaway will be open for 1 week, ending Tues Oct 19, midnight. ONE winner will be chosen by random.org. Winner must have a method of contact avail to me… either an email or blog.
Good luck friends! Spread the word and keep junkin'!

If you're a Facebook user, you've seen a sneak peek of something I was debating on giving away. I'm still refining the idea, so that event will come in the future. 🙂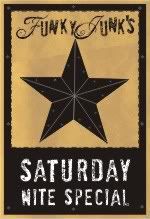 The next themed linkup is picture frame ideas. 
I have a new one I created I'll be revealing on the weekend. Quick! Make yours and join me. 🙂