Welcome to Saturday Nite Special #52, the picture frame edition!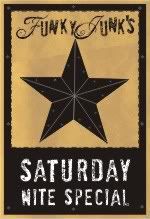 If you're new here, join in! There are three categories to link to. Home Decor as well as Crafts, Sewing, Recipes, plus the 3rd themed link up. Check below for this weekend's theme.
Party starts Fri night and ends Sunday 11pm pacific, so you have all weekend to join!
I LOVE to highlight inspiring posts during the event on the sidebar, so make sure you check in several times over the weekend. You may be next. 🙂
~ This weekend's themed link up ~
picture frames
My fireplace mantel got a little makeover with some family magic for this weekend. 🙂
Where's the picture frame you ask? IMO, the entire fireplace, mirror and embellishments ARE the picture frame. A picture frame can be much more than just the piece surrounding the photo. In this case, the environment is the platform for this small photo grouping.
Miniature clothespins simply clipped to the wreath created the perfect place to hang a few vintage pics of my brother and I. 🙂
(I hope he loves me enough to forgive me for publishing that pic on the left LOL… notice he's holding his cars?)
Yet another funky twist. My bedroom dresser holds some of my fav photos of my parents.
The pictures were simply hung on the old headboard, creating a photo gallery of sorts.
There are many things on this dresser that belonged to my parents so it's not only pretty, the theme honors them.

related posts
(torn sheet lampshade)
(vintage dresser/headboard how to)
Simple old barn window frames without the glass make fun rustic frames for these CNC routered samples.
(I help at my friend Dan's workshops in which we paint these samples with different faux finishes)
And here's a wild card for ya. 🙂 10 min project tops! I grabbed an old window and twine, started one area held with a push pin, and wrapped the twine around the frame very random like.
This is the back. Then I flipped it over so the pins wouldn't show.
I placed the pictures (complete with original cardboard and wooden frames) where I desired them to go, allowing the twine to do it's thing.
Some areas got abit of masking tape to hold things in perfect place.
(yes, that is me in my Cleopatra haircut)
This little picture vignette is right above my computer, so I see it all the time. And I LOVE it. 🙂 The added industrial chic touches take me back to my farm days growing up, so the area in whole actually tells a story.
And then there's the crate frame you spotted in the Colour Challenge post HERE, holding a gorgeous original hand painted piece by Trish from The Old Post Road.
Do you have a favorite/unique way to frame up art/pictures?
How do you like arranging picture frames?

The 3rd themed linkup is waiting for your picture framing inspiration posts!
~ SNS blah blah linkup rules ~
1. Please link up your intended post, NOT your blog homepage url. (post, then click the title of your post, cut and paste that url) If your post has been deleted, please try again.
2. Please put a link in your post (button or text) that leads back to the party so others can see what's up!
3. This party is geared for DIY type projects we can all attempt to make ourselves. Items for sale may be linked up IF your entry is posted on your blog and in tutorial style.
4. For Home Decor and Crafts, Sewing, Cooking, please link projects up that are new to SNS and within 1 month old. This helps keep content fresh! The 3rd weekly themed link may have older posts and not brand new to SNS.
If you can't decide which category to enter yours in, please just pick ONE and go with it. It's all good!