When the topic of OLD came up for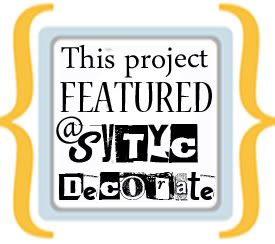 … I debated, "Should I work on a priceless artifact or go after a piece of junk?"
Bet you can guess the answer to that one. 🙂 Which would you choose to work on out of this pile? I'd bet the one I chose isn't even on your radar. But it's in there.
Isn't she a beauty?!? A part of a mattress box spring from a recent haul, plus a few old relics I had laying around, I got to work with my new brainstorm.
First order of business was making the rust laden spring thing safe, (what is the thing called?!?) so it recieved a good scrubbing with a wire brush and soapy water, then a satin clearcoat. (thanks for that lesson, Mustard Seed Creations!) This stuff dried so fast and actually made the rusty patina richer, while adding no gloss. I was very happy with the outcome. You are welcome Tremclad. 🙂
I wanted something jazzy for the center of the spring base, so I decided on this plant holder I scooped from a neighbor's garbage trailer. I removed the interior metal embellishment and finding a scrap bulletin board piece, traced it out, then cut with an exacto knife. The cut wasn't very clean so I sanded the edges afterward. Worked out great!
Staining was next, leaving out a finishing varnish. I LOVE the matte finish. It still looks old, but much richer and cleaner.
It's coming along nicely now. This goes to show, anything can be a bulletin board.
I hired my son to glue burlap onto the bulletin board and mount it to the base. Notice screws were used, leaving the option open to change the bulletin board into a chalkboard at a later date if desired.
I loved the end result. The beautiful wood shape and metal accents really take this little bulletin board to a new level. I screwed on a clamp of some kind to the back getting it ready to mount.
It worked!
The wonderfully rich rusty spring base became a kitchen bulletin board in a lonely little corner. I am very much a note person and need to see them in view to remember things, so this invention is perfect for me. The wide open areas provide the perfect place to mount notes galore held up by… weathered clothespins! The smaller bulletin board allows for smaller notes.
The plant stand shelf is perfect to store the clothespins sitting inside an old ironstone bowl. Three white bases all different shapes tie the look of white and light together. And some ancient old scissors in the pencil cup add some old time junk appeal to the look.
Antique hooks were glued onto the lower area of the frame, creating the perfect place for an old straight edge with a job all it's own.
And next?
How fun! Adding rusty relics and other helps just make the piece more interesting. You can add and take away at free will and load it up with virtually anything. Other uses for the base? A pot rack if closer to the cooking area would be awesome. How about hanging up tools? Or just antiques on a big bare wall? The options are limitless!
What was once a very sleepy little bulletin board area now has a whole lotta rusty pizazz, which perfectly suites our home.
I love how this ever changing bulletin board doesn't darken this corner as the base isn't solid, allowing the wall to peek through. It sits right beside the kitchen office armoire so it's the perfect office companion, funky junk style. 🙂
So did I choose a priceless artifact after all? I'd say yes I did, as I don't believe I paid much for it at all. 🙂
It's time to go vote for your fav two entries this week! You can click HERE to get there. Happy voting and thanks for stopping by!
Update:
I'm speechless. Thanks so much for all that voted! I'm blown away something once so lost would garner so much admiration! Just goes to show you, you really can create something out of nothing.
Junk on, friends!