We are officially nearing 2011 already! And what better time than to do a mini review of the past year.
These are some of the most popular posts and projects the last year has brought. I hope you enjoyed reading them as much as I enjoyed creating and writing them. 🙂
January – The Dark Side of Purging
During the Workshop Series on Creating your Own Workshop, this video was created to mock some fun out of what is actually a pretty tough job!
Workshop original post is HERE.
33 comments
January – I wanna know how to  _____
Beginner blogging tips are covered. The questions are addressed in the comments. Happy reading! 
74 comments

March – Mattress Spring Bulletin Board
Attempting to create something in an 'old' theme, this little kitchen helper was quite a hit.
95 comments.
 March – Drop cloth hanger curtains
I was required to come up with a unique use for fabric in a contest, so I recreated the 'hanger curtain' using a no sew drop cloth.
  47 comments.
This project isn't even a year old yet and these stairs look identical to what they do the first day I did them. I must thank the acrylic craft paint for holding up the way it has!
165 comments.
April – Vintage dresser staging
An old rusty gate was added to a very cool vintage dresser for a unique touch.
53 comments
One of my personal favorite projects was this TV stand created out of an old palette. I had NO idea how to build legs but I muddled my way through it.
53 comments.
This idea lived in my head for a long time before I finally had the perfect reason to go for it. I had to learn how to work an air gun on this one which made this build an absolute breeze.
135 comments.
This was an inspirational story on how a mysterious illness brought some incredible changes to my life in the best way possible. Leaving a lifestyle was not only difficult, but very rewarding at the same time.
Part 1 – 44 comments
Part 2 – 64 comments
Part 3 – 89 comments
July – What does your quiet say to you?
A double whammy here. An inspirational writing about listening to those internal voices, alongside  a beach photoshoot. 
The photo above proceeded to win a grand prize in a photo contest!
45 comments.
A couple ladder projects were created for a ladder themed link party.
43 comments
 Aug – Part 6 – Reveal of the palette desk
This 6 part series took you through all the steps in order to create one of the most simple and productive pieces ever.
83 comments.
October – How to make a table top sign with a story
A little table gets a major makeover with the simple addition of lettering.
92 comments.
October – How I make old signs
A full tutorial style post on how this multi coloured patina was developed for this Grocery sign.
 85 comments.
A full tutorial on creating an oversized number out of scrap plywood.
42 comments
November – Creating an old gate

A full tutorial on how an old gate was created out of scrap wood and hardware.
85 comments.
November – White twig chandelier
Willow branches and grapevines are attached to a chandelier to bring abit of nature indoors.
92 comments.
November – Making your blog more visitor friendly
Full tutorials on how to change aggravating and often unrealized default settings to make your blog much more contact friendly.
Can I say, this is a must read? I don't receive many of your comments in my inbox because of a setting blogger doesn't do for you.
133 comments confirmed the advice. 🙂
 
December – The WhoDroop feature on my junk Christmas tree
What to do when your Christmas tree is too tall for your room? Create a bend over with a hanger of course and label it something weird!
103 comments for tree #1.
 69 comments for tree #2.
December – full home Christmas tour
Junk touches tweaked with Christmas cheer fill my home this season.
136 comments.
December – How do you get through tough times?
Are you a flower caught in the snow? An inspirational post on how to cope during trying times.
84 comments.
Other tidbits to share:
Most asked question:

How do you come up with your ideas?
Out of pure need. If I need something, I start looking for the right components which are generally free or as cheap as anyone could ever land them. Then I just fiddle until something is made, is productive and looks good.
The biggest danger comes in having a full and compete house. I then stop. So the best thing is to sell or do this for others or have a reason to do it (tutorials for ?) so I keep going and inventing. I'm workin' on it. 🙂
What I desire to do with all this:
I'd love to write for online or real life magazines, creating tutorials. Or stories. Or write a book. Or write ebooks.
Are you a magazine desiring a writer/designer/photographer? Please hire me.  I'll surpass your expectations, I promise. 🙂
I still think there's a need for a full blown ebook on the topic of Taking Great Pics with a Point and Shoot. Not everyone (hand raised) can afford the biggest and baddest equipment out there. Would this kind of info interest you?


My dream purchases:
I'm saving every blog dollar for an SLR camera. And little video camera. Once I have these last two things, there's no stopping me. 🙂
2010 summary:
I have to say, I've learned an awful lot this year. It's been a nonstop whirlwind of trying things out with my fingers crossed. Asking online and personal friends for advice, borrowing tools, receiving encouragement and then kudos, honestly, I'd never accomplish 1/3 of what I did if I didn't have that. Or if I didn't bother to blog all about it.
Key to success: 
By not being afraid of failure. Many of my projects fail but I don't give up. I tweak them ALL until they DO work. Never ever give up on yourself! And take killer pictures so you can show your work in your best light possible. That indeed does help.
What I'd like to know:
Is there anything you'd like me to cover o the blog? A topic you'd like me to write a fullblown ebook on? Give it to me straight. I need a new challenge. And a way to earn that new camera so I can teach you how to use that too. 🙂
Thank-you for being the most awesome audience I could ever hope for. You've done more for me than you'll ever realize.
Here's to a very funky and equally junky 2011. 🙂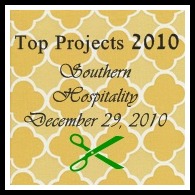 Linking up to Rhoda's party Dec 29
Merry Christmas from me!
Enter through HERE