Welcome to Saturday Nite Special #84
Theme – your homemade toolboxes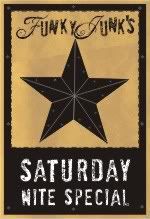 If you're new here, join in! There are three categories to link to. Home Decor as well as Crafts, Sewing, Recipes, plus the 3rd themed link up which stays open indefinitely. Check below for this weekend's theme.
Party starts Fri night and ends Sunday 11pm pacific.
This weekend's theme:
~ homemade toolboxes ~

Q: What do you get when you team up:
An authentic picket board, a white scrap board and a woodsy board all the same depth alongside the most crooked wiggly branch ever?
1. Cut bottom and two sides out of the same size board, AND same size.
2. Using the same sized board, create two sides. Trim to picket tips if desired.
3. Dry fit them to make sure cuts are accurate.
4. Predrill holes, then use screws to assemble the toolbox.
5. Drill two small holes into both sides, then insert a twisty branch.




6. Place jars of water inside the toolbox, then fill up with fresh cut flowers of choice.
7. Cover jars or soil with spanish moss.
A: You end up with an instant soiless freshly cut wild flower garden in your very own picket toolbox that can be changed on a whim!
A wiggly branch winds over, below and around bright petals as if it's color giddy.
Authentic white shabby pickets adorn each end, ringing in a hot summer's day theme.
The board cuts were left in their woodsy tone to chime in with the branch handle, creating more of a 2 tone effect. I screwed this one together rather than use nails because, quite frankly, it was quicker! 🙂 I put this thing together in about 10 minutes.
The flowers, held in 3 cups filled with water, were arranged in a color blocking method for the most punch. Then fiddle as desired. That's it!
BIG impact for one little space!


My 'junk toolbox' reveal shows a complete tutorial that simulates both builds HERE.
For the entire Toolbox Workshop:
Part 1 – inspiration
Part 2 – how to build one
A mini toolbox to entice you was HERE


Julie, thanks for the enticement to give building toolboxes a whirl!
I'm not sure I can stop now. 🙂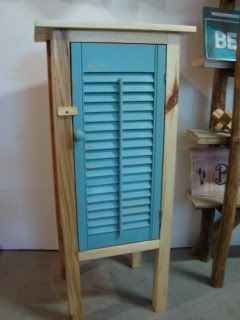 If you like woodworking, you'll love watching Julie work her magic. She just made the cutest cupboard with a shutter door. Check it out HERE.

Link up your own homemade or purchased toolboxes in this weekend's 3rd themed linkup!
~ SNS blah blah linkup rules ~
1. Please link up your intended post, NOT your blog homepage url. (post, then click the title of your post, then cut and paste that url)
2. Please put a link in your post (button or text) that leads back to the party so others can see what's up. (see BUTTONS label under main blog header)
3. This party is geared for DIY type projects we can all attempt to make ourselves. Items for sale may be linked up IF your entry is posted on your blog and in tutorial style.
4. For Home Decor and Crafts, Sewing, Cooking, please link projects up that are new to SNS and/or within 1 month old. Repeat linkups will be removed.
The 3rd weekly themed link may have older posts and not brand new to SNS and will remain open for your new additions at any time. Click HERE for the main list.
If you can't decide which category to enter yours in, please just pick ONE and go with it. It's all good!
5. By linking up to SNS, you approve to being highlighted on FJI Facebook, added to the themed linkups and for possible future features on Funky Junk Interiors' blog without additional permission required.
Come on over and see if we're talking about you this weekend. 🙂