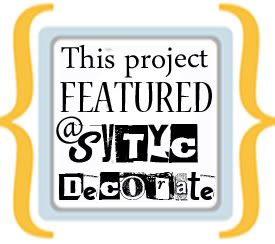 Welcome, to old friends and new guests alike! I'm pretty proud to be included in this amazing group of gals, to show you a little bit about my own personal style of decorating. Thanks Stephanie!
And thanks for your visit! Let the fun begin. 🙂
* indicates links shown at end of post
Once upon a time, *my favorite chair broke, changing my office area forever.  I took suggestions from your comments, throwing in a dash of my *own decorating advice, putting function before beauty.
Because, after trying out the new farm table, it had to stay. It just HAD to. So out came the paint and gone went the old accessories, and the rebuild began.
More on how I got it to where it is later, however today, thanks to SYTYCD, we're celebrating…
~ accessories! ~
Come on in…
… to my new revamped junkin' bloggin' office. 🙂
Gone are the days in my home when a dining room is used for eating. This area is now my blog office, with a very funky personality. 🙂 Random objects of desire come together, all playing a much bigger part. A little bit of metal, wood, black and white all harmonize, creating a fun, casual environment that would inspire any junk lovin' blogger! Not that we need the extra enticement…
Even the inside of the two doors of the armoire provide function. Although they can close, I'd never want to do that. 🙂 ( I prefer to face space, rather than a wall ) On the left hangs a bulletin board, also displaying an antique clipboard for some layered interest.
The right door houses an old heavy duty metal shower caddy for post it notes and writing materials.
The top row of labeled baskets hide all kinds of office needs.
Punches of white were needed to tie in the farm table top, so the middle shelf holds a white drawer from a dresser, one of the best paper catchers EVER. (groups an entire year of school paperwork before it goes into the year end scrap book)  The office sign was created from bits and pieces of this and that I had laying around. The surface of the sign was lightly roughed up to give it a chalkboard appearance.
Have you noticed *the backing on the armoire? A chunk of metal clad siding, complete with rusty details gives this area a kick of unexpected industrial charm! If that doesn't make you smile, not much would. 🙂
Inside the armoire, old jars, plates, platters and an antique sewing machine drawer do double duty for useful office storage. A few fun things just to look at are also thrown in the mix. Can you guess what that spoked wheel thing is? (hint… laundry)
The white, the dark and the metal all flipflop, taking turns at being center stage. The rounds really draw in your eye much like a bullseye.
I'm not sure where these wire bowls originated from, but I always see them in the local thrifts. I need another. This one use to hold my bananas and sugar container on the counter and I miss it. 🙂
My little FJI buddy from *Denise, sits perfectly perched up on top..
.. of this productive yet fun vignette. All the galvanized goods create a  home for non office DIY helps as well. 
The fluted can happily holds twine and string, patiently waiting for that inspiration to hit. (I have a twine thing) A hidden clothespin simply clipped to the edge of the can holds up the small ball of twine, creating a great spot to stash easy to grab scissors.
The old coffee perk displays a touch of the great outdoors, while the old pot lid becomes the perfect pin drop.
Grouping these like minded objects together created a theme that highlights the contents, rather than fights them.
No blog office is complete without a good 'ol antique meat grinder holding up those pens and pencils. (Look, it even has a number on it. Cool.) Not only does this little addition make me smile, the raised elevation keeps the desk tidy, as well as the clamp keeping the works from being knocked over by 2 cats and a 10 yr old boy.
My brushes sit right in front of me, attempting to reel me off the blog, and into project land. Sometimes they even win. 🙂
The new revamped blogging office is all about the things that inspire me, just the way it should be. Thank-you favorite chair, for breaking. 🙂
After you're done here, head on back to SYTYCD to cast your vote for your favs!
* Offshoots from this post:
~ Metal clad siding tutorial ~
~ 5 top tips on setting up a room ~
~ Denise the bird maker ~
~ A how to on the office sign ~
Next up: tutorials on the office sign, labeled baskets, and what I did with the table to make it work.
How about you? Is your 'blogging' office uniquely you? Have a link to it online? Feel free to share the url in comments. I'd love to see. 🙂