Everyone has seen a row of bikes in department stores. They are generally chained up, in which you request help so you can get a bike down from a high-up rack.
After rounding someone up, the bike is placed on the floor, with generally 2 flat tires.
You want to try it out in the store, but there isn't much room, so you do your best without running anyone over. With two flat tires.
Any questions? You'll be the one asking, so let's hope you ask the right ones.
I've shopped for bikes like this many times before, and while the major department store method of bike shopping is the most price efficient (which indeed has its place), I'm going to lead you in a different direction today.
This round, it's about how to shop for a bike that custom-fits YOU.
While I don't claim to be a professional biker by any means, one thing I do know is, my bike fits me so well, I can't stay off of it.
And to me, that is a first and worth EVERY SINGLE PENNY.
(this post contains some affiliate links so you can find the gear I love)
How to buy the best bike for you with 10 must-get accessories
All Things Bike
This is part of a 3-part series, geared to teach you valuable bike tips.
Part 1 – How I accidentally got addicted to bike riding.
Part 2 – How to shop properly for the perfect bike, plus all my must-get bike accessories. (you are here)
Part 3 – How I service my own bike (coming soon!)
.
To recap:
In PART 1, I had just got my hair done and the topic of bikes came up.
After thinking about it, I decided to stop at a quality bike store on my way home to 'see' what they had.
That two hour visit changed the rest of my life.
Shopping Day
I've shopped for a department store bike before. But this time, I craved something different. I wanted more help and maybe even a better quality bike. It had been years since I set foot in a bike shop so I figured, why not look?
Upon entering the store, woa… I was overwhelmed in a very good way. Bike after bike after bike. However, the rows of sparkling new bikes were all on the floor resting on kickstands. Which meant, they were all approachable right away without asking. Now nice!
But with so many, where do I even start?
As luck would have it, I didn't have to worry. I was quickly approached with a salesperson who asked if I needed a hand.
Boy did I.
I was first asked how I planned to use the bike.
I admitted I wasn't an athlete so I didn't care about racing or mountain biking or training. I had a bunch of old injuries to work around, so easy does it for me. I would use the bike for pavement and gravel cruising, but didn't want something so heavy that it was major effort to use. And I wanted some gears to help me up some minor hills.
If I could be totally honest, I had hoped for a pretty aqua cruiser type with a white front basket… but soon came to realize, I would ultimately need much more. Many cruisers don't even have hand brakes nor any gears which wouldn't do at all for what I desired. Plan B was in effect. What could look cute but still do the job?
So we got to work. 7 bikes were pointed out that suited my requirements.
Here's the best part. EACH BIKE was carefully adjusted to fit me best. The handlebars, seat, you name it, everything that could be adjusted was. What a difference the slightest tweaks made!
I tried them all out, one at a time, taking them outside the store and down the sidewalk into an empty parking lot. Seriously… is this for real?
But here's the thing… every time I tried a bike, swearing THAT was the one, the next one proved I wasn't done shopping yet because the next one felt even better.
So imagine walking into a store and trying two that are NOT adjusted to you. You'd ultimately choose one of them because that's all they had.
This was a totally different experience. And my goodness friends… please do this at least once in your lifetime because you deserve this.
After bike #7, I immediately knew which bike was meant for me. I was able to sit upright, and there was absolutely no stress in some weird position, and it wasn't hard on my knees. In a nutshell, it was effortless to ride, even in my non-bike condition.
Now that was a first…
And it wasn't until I put on the wicker baskets on the back, that I fell HARD for it. How cute! And so useful!
This combo had a sleek, modern look with a side of vintage! A classic bike that won't date, along with some style.
Take my money, please!
How to buy the best bike for you
1. Visit a quality bike store
You will get specialized service as they will adjust the bike to fit you and allow you to try it out. And ultimately, land a better bike that fits you right.
2. Describe how you will be using the bike.
Are you big into training, riding just on pavement to scoot to the grocery store or will there be some gravel trails to consider? Decide this before purchasing. ie: A cruiser-only bike is pretty, but if you want to trail ride, you'll require some gears and possibly a lighter bike.
3. Try several bikes fully adjusted to you for the perfect fit.
Just when I thought one was great, the next one proved to be better. Try LOTS that are adjusted to you. But NOT just off the display floor. Get them to adjust it. It makes a world of difference.
.
My bike
I ended up with a Specialized Expedition Sport Low Entry bike.
I don't think this exact model is made any longer but you can get close. It's a hybrid, which is a cross between a cruiser and mountain bike. Tall frame, 21 gears, suspension in the seat and front to help reduce impact.
It fits like a glove and I can't stay off it.
I paid approximately $600 Canadian (no accessories) at Jack's Cycle in Chilliwack, BC, Canada in 2017.
After all my accessories, I was just over $1000.
Find all Hybrid bikes on Amazon HERE
10 Must-Get Bike Accessories
Now know, quality bikes come pretty bare bones. This allows you to 'build your bike' according to your needs and budget. I actually liked that I got to pick all the bells and whistles myself! I could give this grey metallic beauty my own style!
So I loaded up on a few must-gets. Some of these I got right away, and some I went back after the fact.
1. & 2. 2 Bike Pumps
Pros:
Safer for your bike tire valves than a compressor.
Comfortable and easy to use.
The #1 thing on my list was a quality bicycle tire pump.
I like the floor style best. I find them comfortable and effortless to use. And yes, I went for quality.
I was told by the bike place that compressor-type pumps ruin bike tire valves. I didn't know that!
Before each ride, I squeeze the tires, testing if they need a little extra air. They normally do.
The appropriate pressure is listed on the tires themselves.
My bike floor pump is a Joe Blow Topeak on Amazon HERE
Tips:
Check tire pressure listed on tires, then pump up before each ride if needed.
Pick up a compact bike hand pump for the road (see below).
Now… obviously that pump is too large to take with you on the road! So I also picked up a quality hand bike pump to take along for the ride.
I personally wouldn't want to use this hand bike pump all the time. It does not compare to the big bike pump, but I like having this with me just in case I get a flat while riding.
I suggest to try it on your bike or one just like it before purchasing. Some are more finicky than others. I had to return my first one. The 2nd one was perfect.
3. Rear Pannier Bike Baskets
Pros:
Front vision isn't restricted.
Weight is carried on the back of the bike which is safer than on the handlebars.
You get two baskets instead of one!
I knew I wanted a bike basket, and at first I held a front basket in my hand.
It was quickly suggested that a front basket would add weight to the front of the bike, and block out some vision. Oh really!
So that's when I looked at the double pannier baskets in wicker. They dry fit them to the bike and I fell madly in love instantly!
Bar none, the FIRST thing I get told on the trails is how much someone loves the baskets. They look so good but they work even better! I'm thrilled and my only wish is they were larger so I could carry more groceries…
But I truly do love them. I carry my water, camera, phone, phone charger, a mini bike pump, a bag of nuts, an extra hoodie, and I'm ready to roll!
These Electra Pannier wicker saddlebag baskets are on Amazon HERE, however appear to be currently sold out. I got mine from Jack's Cycle in Chilliwack, BC Canada.
Pros:
Quality LED lights have excellent night vision.
The back light strobes, blinks or stays on steady.
Rechargeable with a cord plugged into the wall.
The model I got was NR 350. (350 lumens)
HERE is one similar to mine with 750 lumens and a better strap.
HERE is one with 900 lumens with a better strap and back light included.
I can't even tell you how many times I've ended up riding home at dusk. One time even in the dark! Oops.
So I knew a bike light would be needed. It would help me see at night plus be seen easier by others.
Here's where it pays to ask questions.
Most inexpensive LED lights (lower lumens) will illuminate, but they won't give you enough lighting to actually see the road in the dark. A higher amount of lumens is more expensive, but WELL worth it. With my 350, I could most certainly see everything no matter how dark it was! Make sure you get a back light too.
Mine easily strapped on with rubber and used them all the time… when I had them.
I sadly lost the front one on the bike trail. The rubber grip let go. After replacing it, the new one fell off too! Good grief.
After that I decided to go without. But I really wish I still had it. I paid at least $75 Canadian for mine.
So a tip? Get one, but attempt to secure the strap somehow so it's IMPOSSIBLE to fall off. I see the newer ones have improved straps so that is good!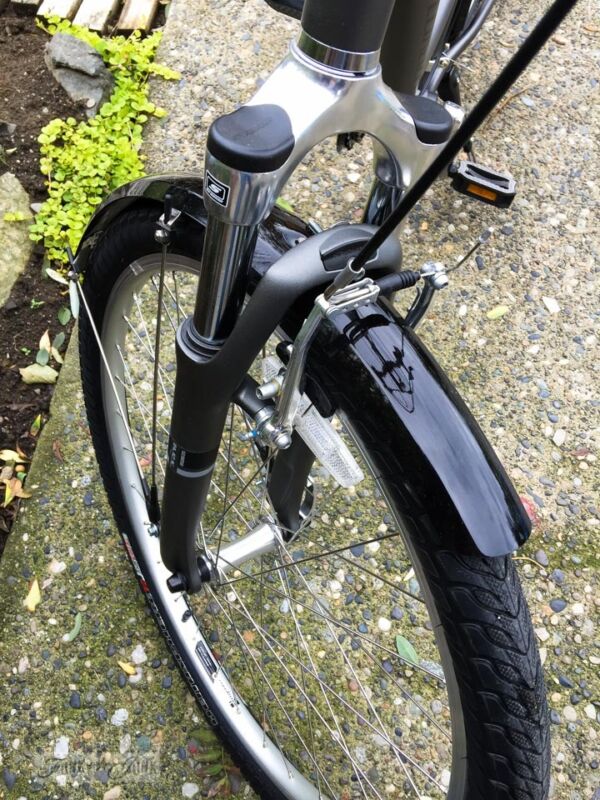 5. Plastic fenders, front and back
Pros:
Lightweight.
Won't rust nor dent.
I knew I wanted fenders because I live in rain country. Enough said.
When I compared metal to plastic, plastic won for me. They looked so sharp! Plus they won't dent or scratch up like metal.
Plus, they're super light and wash up beautifully.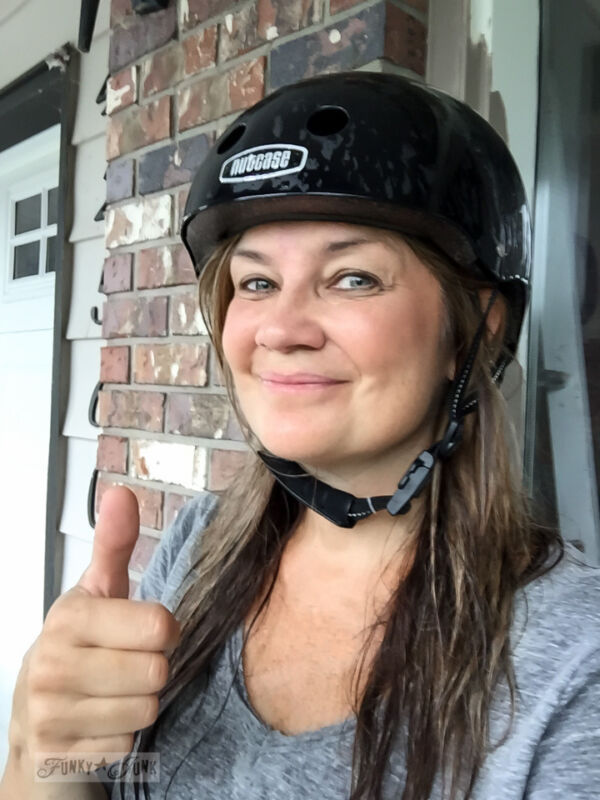 Pros:
Magnetic chin strap closure.
Dial on back to adjust size.
I have never owned an amazing bike helmet before. But let me tell you, you don't even mind wearing a good one since they are so easy to put on with their magnetic closure. Plus to tighten, there's a round knob to twist on the back. Instant comfort!
And yes, I realize the strap is way too loose. It was my first day on the bike (in the rain no less!) and I was getting use to everything I guess.
7. Bike Lock
Pros:
Heavy duty making theft difficult.
Keyed lock.
I love this heavy duty keyed bike lock so I don't have to remember a code. I carry my house keys with me anyway so one more key makes no difference!
8. Bike Rack & Bar Adapter
Pros:
Works on cruiser style bikes.
Easy to get on and take off again.
If you plan to head out of town on your bike, I highly suggest to get a bike rack.
It's easier to purchase one at the same time as buying your bike so you can ensure your type of bike fits.
Being that my bike rack I've had for years is the Z shape, the low entry bar on my bike required a bar adapter to make it work. It works wonderfully!
Pros:
Alerts bikers or walkers you are approaching them.
Consider a free-hanging bell. It's less shrill and works on its own.
If you're a trail rider, you already know bike etiquette. It's polite to ring your bike bell if you are approaching someone from behind or before heading around a tight corner to alert on-comers.
What I don't like about standard bike bells are the fact that they startle people. Their shrill sharp ring makes me jump every time.
What I do prefer is a free hanging bell. The sound resembles a soft wind chime, and you don't have to remember to ring it. It's always working.
I dug through my junk stash and found
this reproduction cow bell
. I adore it and so do the other trail users… even if they do think a cow is approaching them! LOL
10. Water bottle holder
Pros:
Easy to grab.
Ensure it fits all standard sized water bottles. Bring one when you shop.
I don't have a picture of this because I don't have one yet, but I'm going to!
I highly recommend to attach a water bottle holder that fits any sized standard water bottles.
I currently use the pannier baskets to hold water, however often wish it was easier to grab.
Another thing I would suggest to pick up is bike chain oil, however I'll go over all that on the next bike post covering bike maintenance… coming soon!
Thanks to this well-fitting bike with all the bells and whistles and some gorgeous nearby trails, I am right in this spot nearly every evening.
Bike riding
has turned into my therapist, stress reliever, form of exercise, reason to procrastinate on work, and of course, yet another excuse to take pretty pictures.
But even more than that?
Getting this bike changed the entire perspective of my world. Much like a skier hangs out on ski hills, having this bike ultimately led me to miles of forest trails I didn't even know existed.
That right there is work the price of this bike!
So if you need something new to add to your life, I recommend go get a bike, and see where it ultimately leads you…
.
Next up… I'll share how I adjust and take care of my bike myself!
(adjusting brakes, oiling the chain, how to wash, etc)