Welcome to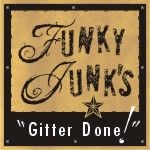 "Gitter Done!" – volume 3!
I gave you permission HERE to walk away from the computer to get some overdue DIY or non DIY tasks done and over with so you could blog allll about it.
Today's the day to reveal all your hard work! I can't wait to see what you've got. 🙂

I wanted to surprise my son to 5 days of camping after he returned home from camp.
However.. ugh.
Basically, the travel trailer was just a mosh pit of all things RV with no rhyme or reason. Then 2 days before his return, I realized if we went camping, I would have no project to submit for Gitter Done because, you know, I was busy doing nothing, remember?!?
Well DUH!!! Get THIS done already! And that made me move.
I tossed out all the crap for starters, plus yanked down all the blinds and screens. Everything seems to sparkle when your windows are clean, so I did it right. EVERYTHING got cleaned.
Next up, Teddy Bear helped me spread out clean sheets on the beds. (why are cats so mesmerized by clean sheets on a bed anyway? I don't get it: same deal in the house too)
Well now, gotta pack 'the toy!' 🙂 (this proved to be a wonderful movie viewer!)
The boy got his toy too.
All nice and clean! And then I packed it full of food and clothes and deemed it ready.
But before heading out, I had to quickly practice towing this thing again. It had been a year. Hookups went awesome. As for driving, I proceeded down a quiet sports field road, however their gate at the END of the road was closed and it was a no exit area. Doh!!! With no room to turn around, I got my practice in for sure, ending up vertical on a horizontal road. That was fun. 😛 But rather than panic and yelp for help, I just took it nice and easy and got out. I'm a towing pro at this point!
Oh.. back to the trailer..
In such tight quarters, there isn't alot of room for pretty decor accessories, as there's barely room for the necessities. HOWEVER… I did buy beadboard wallpaper last summer with full intentions on starting a small reno project inside this thing… might be a great upcoming fall project to involve you in. 🙂
This Gitter Done project paid off BIG! We did indeed make it to a lovely campground an hour away from us.
(funny story? I felt so 'caught' with this apparatus on the picnic table, so I brought it inside again out of pure guilt.. and ended up using it very little thankfully. We were camping after all!)
We tried out a new place (to us) in Hope, BC Canada called Hope Valley Campground, (yes, I would go back!) and had a huge private campground with full hookup…
… a gorgeously VERY warm pool we got to ourselves quite often…
… plenty of beautiful grounds to meander about on…
… as well as a fully stocked store AND arcade games room…
… and I 'bout died and went to campsite heaven when manager Gerry was making picnic tables one day! My son knocked some sense back into me and told me to haul it on back to the pool as we were on VACATION. *sob* He knows me so well.
However, this wonderful guy took me through the ropes of all things picnic tables and inspired me to start on my computer table once I returned home. So you see… DIY will even follow you all the way to a remote campsite in the middle of nowhere if you allow it to. 🙂
Oh. I've already blogged about this one, but my other big time Gitter Done was finally getting my hair done! I was nearly down to my natural GREY colour I waited so long on this last one. Know the sign of a good haircut?
You roll outa your travel trailer bed, dry blow dry it and you're ready to go! Thank-you hairdresser Crystel! 😀
Your turn. 🙂
Next Gitter Done Event is
~ Wed Sept 1 ~

So think of a long overdue project you have on hand and … Gitter Done!
Rules for the Gitter Done Challenge:
1. This is an exclusive linkup event. Please link up only if your project was inspired by GD.
Please bring your general linkups to SNS (on every weekend) as we'd love to have you join in then!
2. In your post, please tell us how GD inspired you.
This will help me determine which are GD linkups vs general DIY linkups not suitable for this event. (which will be deleted.. sorry!)
3. Your linkup does not have to be DIY related, just something you've been stalling on. You'll thank me later. 🙂
4. Please include a before and after pic, so we can appreciate all you did!
5. Please link back to the event by text or button. (see BUTTONS section in header area if you desire)
6. Please keep the 'jest of your project' new to the net until your GD reveal. (teasers or shoot off posts are fine!) This will give us all a reason to wish to tune in to see what's brand new!
Linkups that follow all of the above guidelines will have the chance to be featured, so watch the sidebar during the event! The link feature will be active for one week, so keep linking and checking in. 🙂
I can't wait to see whatcha got done. 🙂