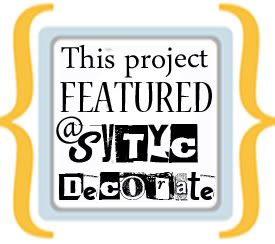 Some of you may remember the amazing online decorating contest, So You Think You Can Decorate.
I promised to update you on my experience with the contest, but I'll be honest. When it ended for me, I needed to catch my breath. And I'm nearly (kinda sorda) there. Nearly. 🙂
An online design competition: 9 weeks, 9 projects, 10 contestants
Winnings rated by popular viewer votes.
When I was first approached to be in the contest, I LOVED the idea. But I was scared. I was already in waaaay over my head with other obligations. But I just couldn't say no. So I didn't. 🙂 So I decided to get excited instead and go for it.
Week 1 – Accessories
3rd place out of 10
I remember the first week. I tore this area apart to redo and retweak and rephoto shoot it. And I'm happy to say, this one stayed as you see it pretty much. It's productive, looks cool and works well with my house. The only thing I may tweak is to paint the armoire white. Like I wanted to from day 1 but was afraid. I'm getting more unafraid with each passing day. 🙂
 Week 2 – Catalogued inspired
2nd place out of 9
Week 2 totally freaked me out. I detest catalog shopping and prefer to coast on my own, so I spent HOURS online trying to conjure up something I could later live with.
Before this project, I had never applied paint to decals so this was an awesome beginning to something much bigger to come. I LOVE the tray and we use it right where you see it in this picture every day.
Week 3 – Old
Mattress spring bulletin board
1st place out of 8
I happened to be off the week I made this bulletin board and I'm so glad I was. Each day I had NO idea if it would turn out. I learned countless new things during this week I had never done before.  It was grueling and exciting all at the same time.
But it didn't come without issues. The night before submission, I was up till 3AM styling the board trying to make it look good. And to me it still didn't. The next day I did two more complete photo shoots. This is the weirdest area in the house to photograph, as it's so dark. When I finally posted the finished entry, I still wasn't thrilled with the outcome. And then I won. 🙂 
Week 4 – White
2nd place out of 7
I cheated here. This one was already done so I grabbed predone photos. I needed a breather at this point. Really really bad. 2nd place for no extra effort was a true bonus after that week with the mattress bulletin board!
Week 5 – Fabric
4th place out of 6
I had already done hanger curtains previously (as you can see in the above mattress spring picture) but just not with a dropcloth.

So I slightly modified the project, bumped it up a couple notches with added details, did another photo shoot and crossed my fingers I wouldn't get voted out. Fabric is NOT my strong suit so I was pretty relieved to still be in the running after this one! I still have only the one dropcloth curtain and one sheet curtain hanging to this day. I never did get another dropcloth. YET. 🙂 But I want to. I really love the look!
Week 6 –  Paint
1st place out of 5
Glory be, I was unnerved to have to come up with something JUST paint. I kept thinking of walls, maybe trying a mural for the first time, furniture… I paced the house in a panic, when it hit me. My bare wooden ugly stairs. My first thought was simply to stylize lumber stamps on the stairway, (lumber comes factory stamped with quality ratings) but that soon morphed into pop crates when I started snooping around the house for further inspiration. I wondered if it would work for about 3 seconds and then I just ran with it. And giggled all the way through! This one was a BLAST. And I have the Bingo board project to thank for this one!
And then about 3 days into this project, my mom passed away very suddenly. GULP!
I have to believe, these stairs were my saving grace to get me through that period believe it or not. I didn't know what to do with my mind, so I simply kept going as planned. I allowed the project to bring me to a place of stability of some kind because honestly, my world was a blur.
And I mean, what do you do when your stairs are in THIS condition? Ya sorda have to keep going to clean up the place. So I did. I received many a visitor during the week the stairs were just like this from kind souls checking up on me. And they all asked what I was doing, and I told them all the same thing. "I don't know what else to do so I'm doing this."
And then I felt abit insecure with the outcome. This project was actually kinda weird. Very weird. But what the hey… I submitted it anyway because I liked it. And then I won. 🙂
Week 7 – Lumberyard Materials
2nd place out of 4
 I had this one visioned for WEEKS in advance, but obviously was way too busy to do anything about it. So while the stairs were barely dry, I ran out and picked up wood to build these screens. I saw them as clear as day from my first vision and they turned out exactly as I imagined.
I was running late for this entry as it was the week of my Mom's funeral. (sounds so crazy!)  I was so late in fact that I glazed the screens on the morning before the funeral started. I kept asking myself, "WHAT IN BLAZES AM I DOING!!!" But I just kept going because I told myself I had to. Funny… the morning of the funeral, I was in excellent spirits BECAUSE of these screens. What does that tell you?
I did make a mistake on them though. When I brought up the first screen, it was too high for the room. So I lugged it down the stairs again to recut. 🙂
Week 8 – Junk
3rd place out of 3
I remember having a 4 hour slot do output this one. Four hours. That was it. So I kicked a day off work and went crazy on it for… more like 5.5 hours. I wanted it finished before my son came home from school but ended up working on it for abit after, but not by much.
I honestly really enjoyed this one because it cost me NOTHING to make and I self taught myself building skills. 🙂 I just really LOVE working with wood for some reason. It cooperates. 🙂
And you had to get so creative to make it LOOK good because, let's be honest… palettes aren't that pretty. And while making this one, I was secretly hoping I'd get voted off, because I was dying inside. I needed a lull so bad. So I didn't mind when the palette didn't turn out 'beautiful'. And then I lost. 🙂
I still love the tv stand to this day. I smile when I look at it. It's just so perfect for our home!
Week 9 – Tablescape
Cow sign theme with slideshow video
no win, however entry was mandatory
But as it so happens, although I lost with the palette, I had to enter the last entry anyway. With NO time, I did the tablescape the day right after sweeping up palette wood shavings because I had one afternoon to whip it up. Thankfully, it didn't rain that day because it rained the rest of this week! Oh. My. Gosh.
But this last entry was really deep for me. Just having lost my mom, the sign JUST came into my hands, so I created a memory video out of the project as well. I still watch it alot because so many things about it reminds me of what a wonderful childhood I had. I just feel closer to my mom when I watch it even though I can't get through it without shedding a few new tears. But they're good tears.
~ ~ ~ ~ ~
Not sure if you picked up on something about this type of contest. Each project took me a week to output, but I only had until Thursday to complete. Friday was photo shoot and submit. And Saturday I started the next project because I had to jam in as much weekend time as I could. I remember running from SNS weekends to the project.  x 1000. It was juuuust a little crazy for awhile. 🙂
The pace was unbelievably impossible. My son sat in front of the tube way too much for comfort. It was gruelling to try whipping out OUTSTANDING projects that were worthy of contest level one after the other. It's hard to be creative when exhausted. And I have never been so tired in my entire life.
BUT…  the event proved to me what I was capable of. All those projects I submitted, I had never done anything like them before. They pushed me in a zone I probably never would have discovered had I not had the deadline and pressure to go for it.
Was it hard? YES. Was it worth it? EVEN MORE YES. Would I do it again? Not for this many weeks. 🙂
And this part is important to me. I want to thank everyone for sticking it out with me. You put up with my plugs, you voted, and hopefully enjoyed what you saw. THANK-YOU for your part in this amazing adventure!
I think the contest resumes in fall again, but I'm not entirely sure. But I will indeed be watching and voting during the next round. Because, take it from me, every vote someone gets, they've worked VERY hard for it.
Thanks again to Stephanie and all my fabulous contestant sidekicks for the wonderful time! And to all of you for the most important part. Your kudos. 🙂
Any questions? I'm happy to answer! And I'm also curious. What was the contest like from a voter's perspective? I'd love to hear.